April Newsletter: A Quick Break
Hello everyone! April is nearly over, and that means it's time for a monthly update! This month was mostly a wrap-up month–finishing up Kickstarters and a lot of super fun maintenance stuff, like accounting and site managing! Yay! Unfortunately as cool as that sounds, it's not really sharable, so this month's update is also going to be pretty short and sweet.
Before jumping in, though, we want to thank all of you dearly for making our shop opening a big success! We're floored by how well it was received. We have lots of plans with it in the future, and the fact it's already handling well gives us hope we'll get there.
Alright, now onto the good stuff:
PAINT THE TOWN RED

Paint the Town Red is our collaborative comic series about the dramatic lives of queer vampires and werewolves.
Volume 2 is officially at the printers as this is typed, and is expected to be finished by the 27th. There's a chance we'll have the books before this update is posted! Unfortunately that means no pictures of it. The PDF is also available now to backers on Kickstarter. This book threw everything at us–including a whole pandemic–so we're extremely relieved to finally have it almost finished. If you missed the Kickstarter, you can preorder it on our shop.
PRISM KNIGHTS

Prism Knights is a series of short novels written by J, about queer knights, based around fairy tales.
As mentioned in the previous update, the Kickstarter for Prism Knights is coming this June. Progress on the reprints of the books has been steady but good: Sapphire has been properly edited, and Velvet is in the process of being edited. The new covers are also in process, we'll likely have previews of it next month. The new covers are being done by different artists, showcasing a variety of interesting styles! Stay tuned for the Kickstarter in June, where these, along with the newest installments and the possibility of an omnibus, will be available!
PINS (& OTHER MERCH)

We have a couple small additions to our shop this month: The big one being a restock of our Vampire and Werewolf patches! They're available here.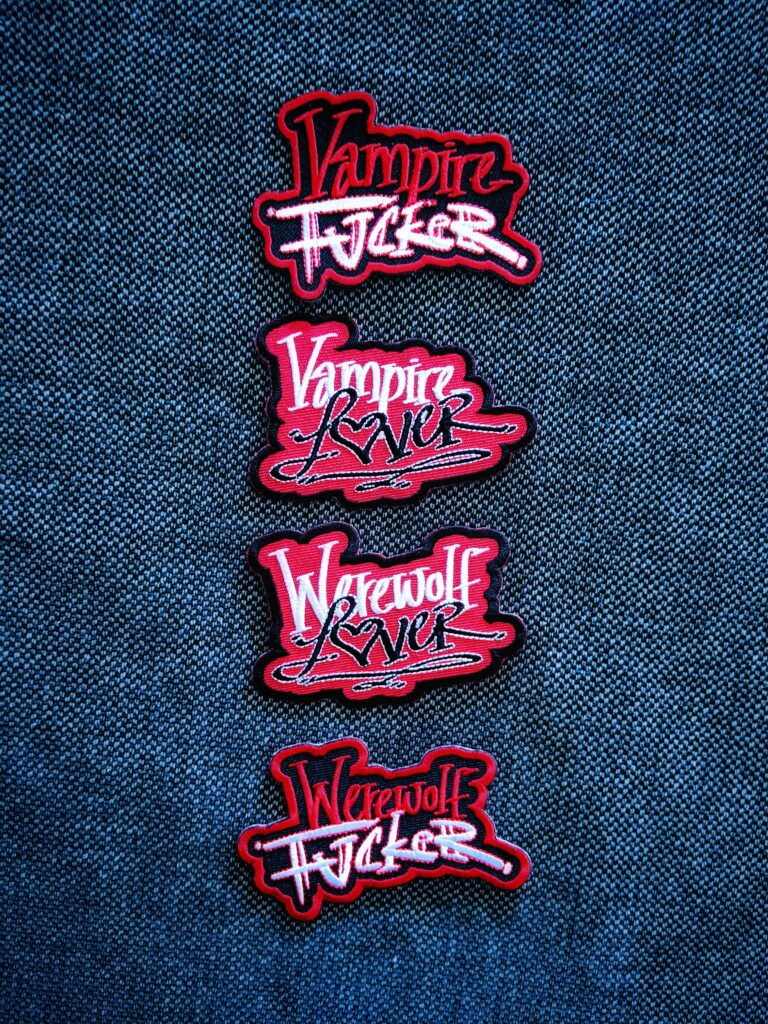 We also have a reprint of our Dionysus pin from the Olympian Collection, joining with the other reprints. It's available here!
OTHER PROJECTS
Finally, along with Paint the Town Red, our new comic The Magic Word should also be arriving soon–projected for early May! It'll be a nice size of 4×6″, printed on lovely matte paper. We got the proof from it earlier this month and we're so excited to get it. It is still available for preorder here!
That's all for now. We hope April has treated you all well!
-W&W