Prism Knights: Now on Kickstarter
It's here!
We have officially launched the first Kickstarter of 2021: Prism Knights! It was launched on June 8th, and to our absolute amazement, it already funded within the first few hours. It now stands having unlocked some stretch goals, before even making this announcement. So, this will go over the Kickstarter itself, what you can get, and what stretch goals we hope to unlock.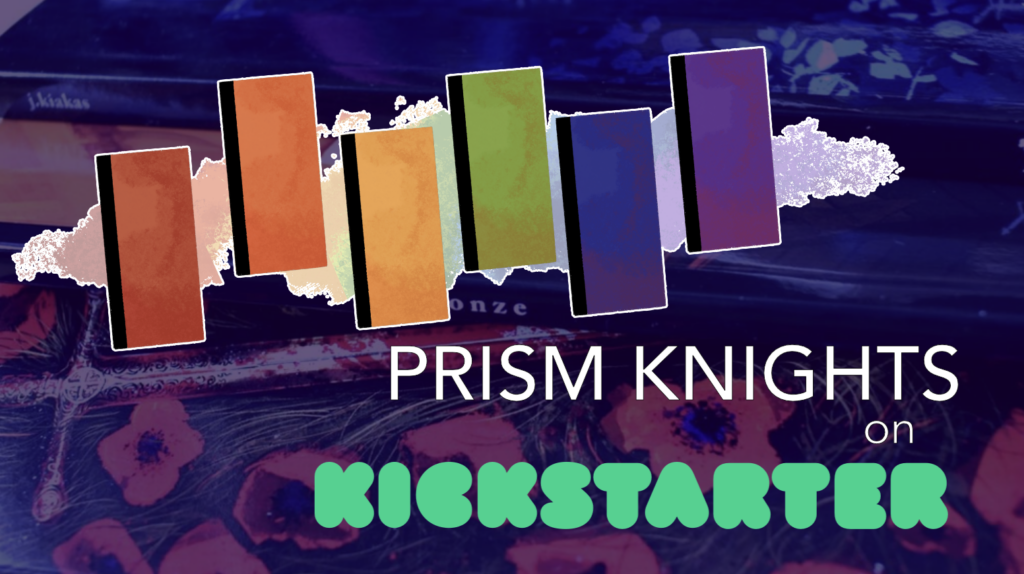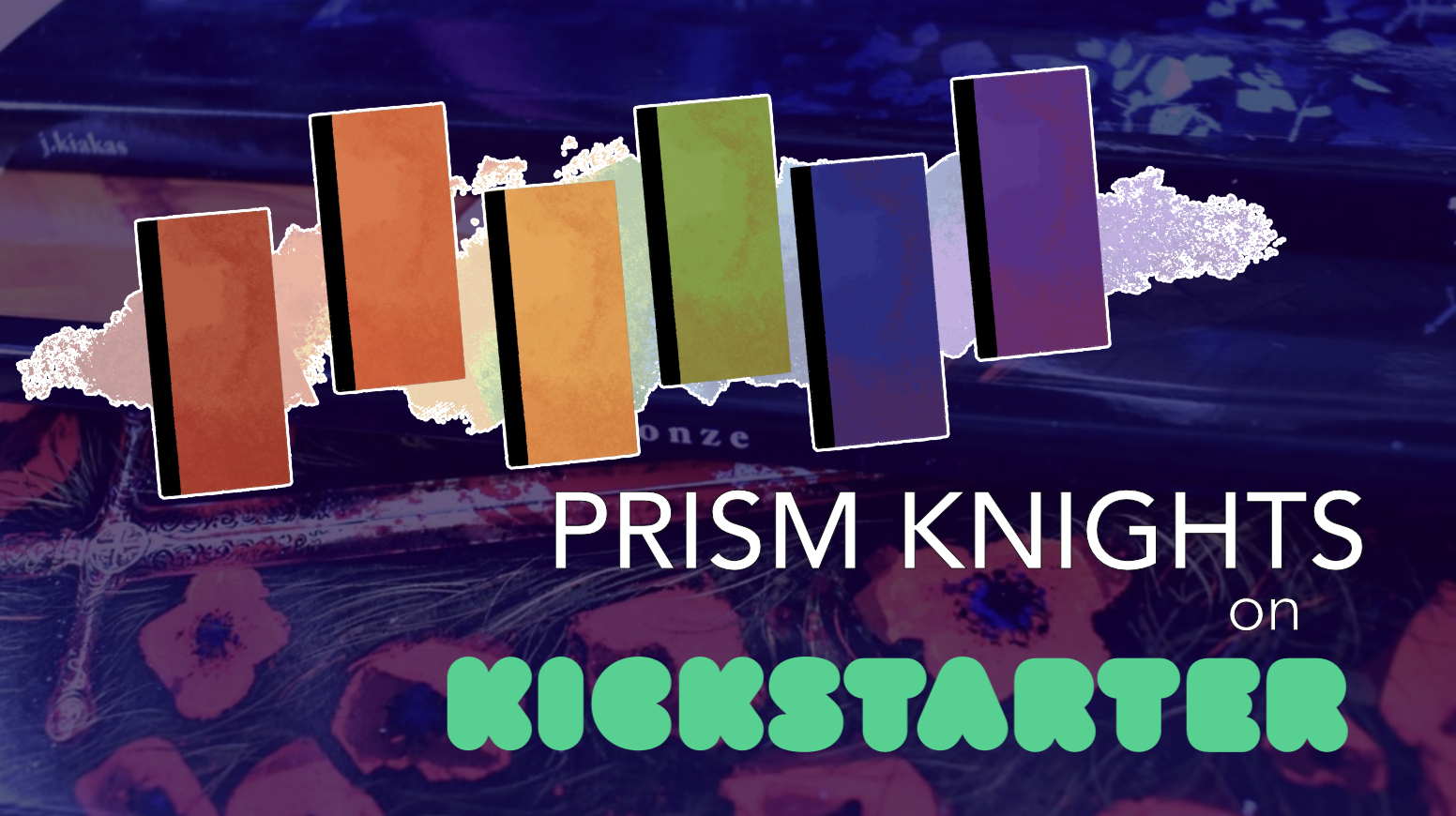 Click the image above or here to go to the Kickstarter page.
What is Prism Knights?
Prism Knights is a series of short novels written by J, about queer knights, based around fairy tales–that's the tagline we use during our newsletters, but since this is all about Prism Knights, let's dive in a little deeper.
The series contains six books, all representing a different colour of the rainbow (the "6 shades of gay"); red, orange, yellow, green, blue and violet. Each book follows a different story, different characters, and different LGBT+ identities. These characters are often mythical knights, and the stories are loosely based on different well-known fairy tales.
Here's a little rundown of each book:
Red — Coquelicot: a story about evil lesbian knights, based on Rapunzel.
Orange — Bronze: a story about a nonbinary ace knight trapped in a time loop, based on Princess and the Pea
Yellow — Lamplight*: a story about a transfemme knight falling for a cursed beast, based on Beauty and the Beast
Green — Juniper*: a story about a gay knight who leaves his sword at a blacksmith's, based on Cinderella
Blue — Sapphire: a story about a knight,  a dragon witch and a royal who fall in love, based on Sleeping Beauty
Violet — Velvet: a story about a bisexual knight overcoming grief, based on The 12 Princesses
*These are working titles, and are likely to be the final but can be subject to change.
Coquelicot, Bronze, Sapphire and Velvet have all been printed before, but this Kickstarter will see the set completed with Lamplight and Juniper.
The stories are a poetic prose that capture the imagery and feeling of the colour they are named after. On top of that, the books are known for their unique size: they are roughly 3×7 inches, which lets them fit well in your back pocket!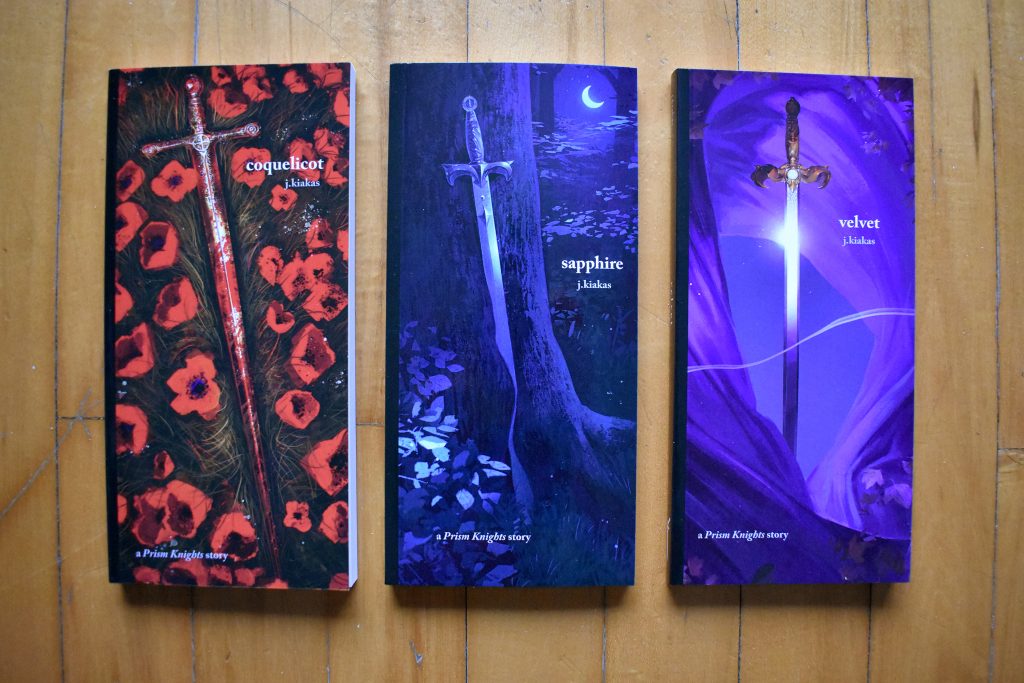 Now, let's see what this Kickstarter offers:
New Covers
All the books will be getting new covers from this Kickstarter, including the ones already printed. These covers will all be done by different artists! Here is our lineup:
We don't have all the new covers yet, but here are the ones we do have, for Sapphire, Bronze and Velvet:
The content inside the books will be the same for the books that have already been printed, all that will change is the covers.
Stretch Goals
A few of the stretch goals have already been hit, giving us some very cool rewards:

Those who order the full set will now get a fancy custom box set.

This was the big one that is now unlocked!
On top of the small books, you can now get the omnibus which collects the entire series into one book. What's more, this one will include some beautiful illustrations by Isa Melançon, the artist of the webcomic Namesake. So, if the set is a little too much, or you already own many of the books, the omnibus is a great option.
The following stretch goals are not unlocked yet, but we're hoping we can unlock them:

At $8k, we can do some fancy enhancements to the books, like spot foil and UV gloss, to really make them pop. We'd love to bring these already beautiful new covers to life even more!

At $10K, we can upgrade the omnibus even more: to a cloth-bound hardcover. This is a dream for us, and we really really hope we can hit it to make the omnibus as gorgeous as possible!
Rewards
The rewards available on the Kickstarter include not only the books themselves, but also digital versions. We also have Kickstarter's new add-on feature live with this one, so you can add as many extras as you'd like to your reward.
Some tiers of note are:
The Collector's Tier: this will get you the entire box set AND the omnibus for a discounted price.
The SUPER Collector's Tier: this is a limited tier where not only will you get the box set and the omnibus, but all 4 of the books with original covers as well.
The W&W Starter Pack: similar to what we have on our shop, with this tier you can nab a Prism Knights book along with one book of each of our different series.
The Kickstarter ends June 24th.
We want to extend a huge amount of gratitude for already propelling the Kickstarter past its goal. We hope we can reach the remaining stretch goals and more before it ends, and bring you all some more beautiful queer books.