October-November Update: Ending the Year
Hello everyone! We're winding down to the end of 2021, and so we decided to combine the October and November update as October was spent mostly waiting on ordered projects. As we slow down to the end of the year, it's likely we will not have a newsletter update in December, unless something big happens! We (try to) take December off from work and focus on resting and holidays as the year ends (but knowing us we'll probably still spend the month cooking up something). For now, though, let's dive into what we've been up to lately, and what we can expect before the holidays:
PRISM KNIGHTS

Prism Knights is a series of short novels written by J, about queer knights, based around fairy tales.
As of now, Prism Knights is, essentially, complete. All the stories have been written and edited. In terms of printing, all that remains is Lamplight and the Omnibus, both of which are assembled. Lamplight is still waiting on a cover, but that should be soon, and the Omnibus depends entirely on our printer for it, which may experience delays. Both of these likely won't be available until next year, though there is a chance Lamplight may happen in December. We'll see!
But this does mean that, yes, we have Juniper now! It is also available on our shop, both in physical copy and a PDF!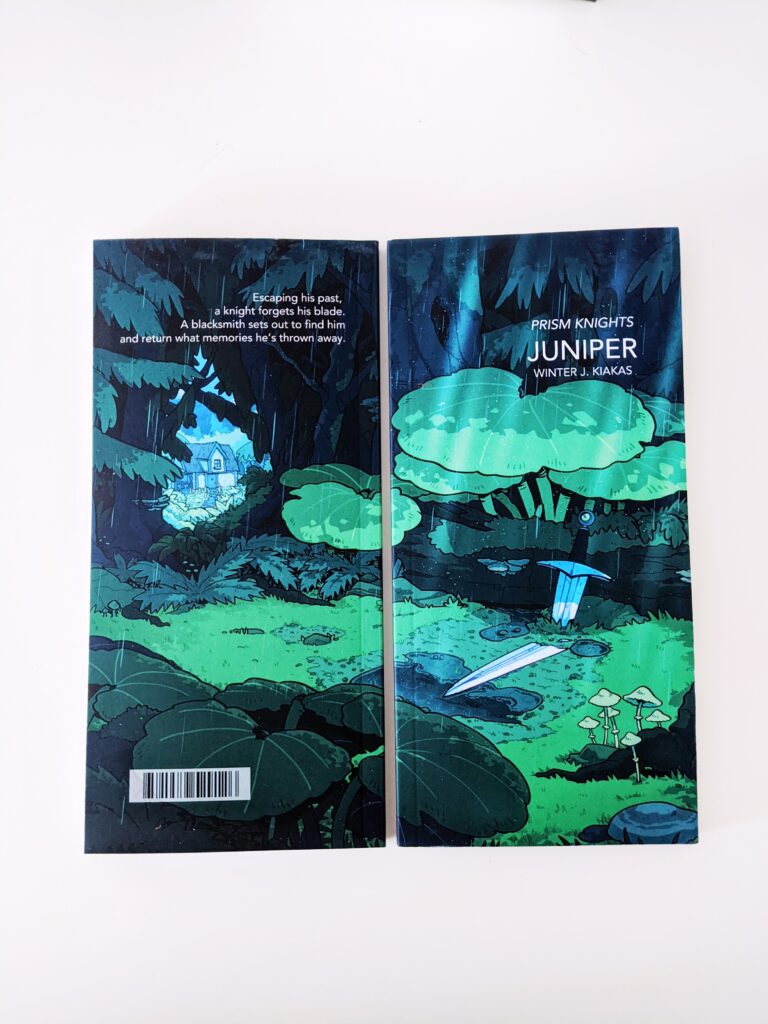 We also got the beautiful slipcases for the full set for the Kickstarter, and they turned out gorgeous! Here is some pictures, with double Bronzes to fill in for Lamplight:
Most of these will be going to our Kickstarter, though we will have some leftovers on our shop once that is fulfilled next year. If they do well enough we may consider ordering some more, since they just turned out so good!
SHOP STUFF

We have a handful of updates to our shop for the holiday season.
As mentioned above, Juniper is now available, but so is the new cover versions of all the current Prism Knights books (barring Lamplight, of course). We also still have some old versions available for a cheaper price. Check it out here!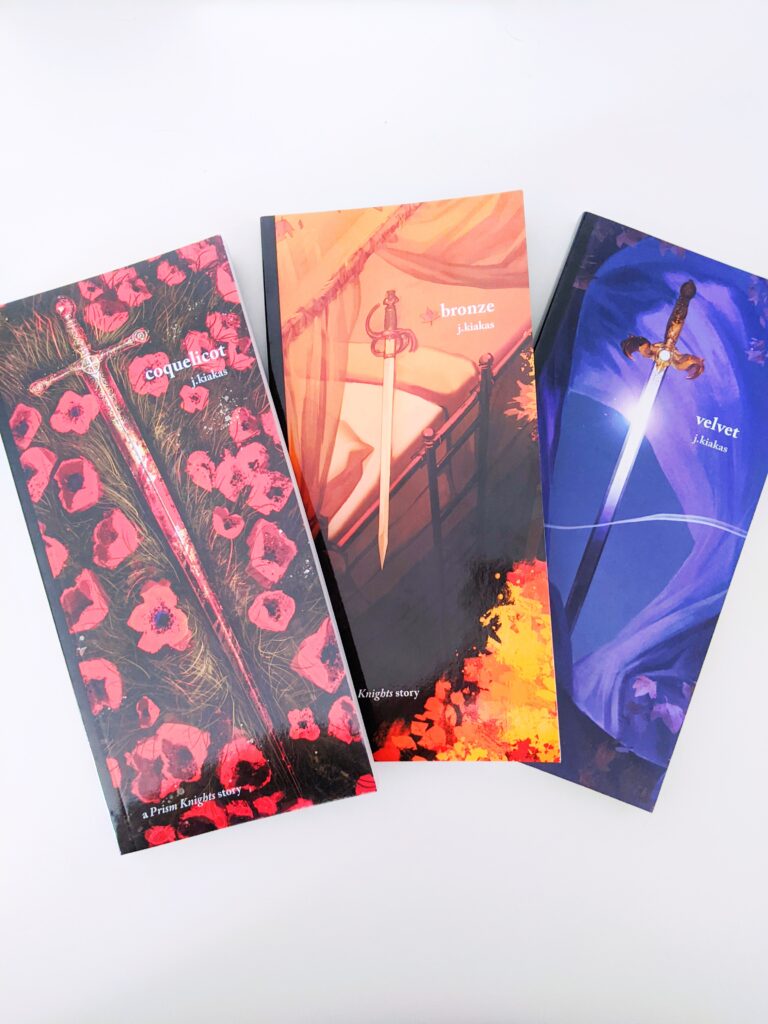 For those that may have missed our blanket Kickstarter, the King's Grave blanket is finally available for preorder on our shop as well! We're expecting the blankets to arrive to us in either December (fingers crossed) or early 2022. We also had a note from our manufacturer that they updated the design of the blankets to better match the colours of the artwork. We're excited to see them! Check it out here!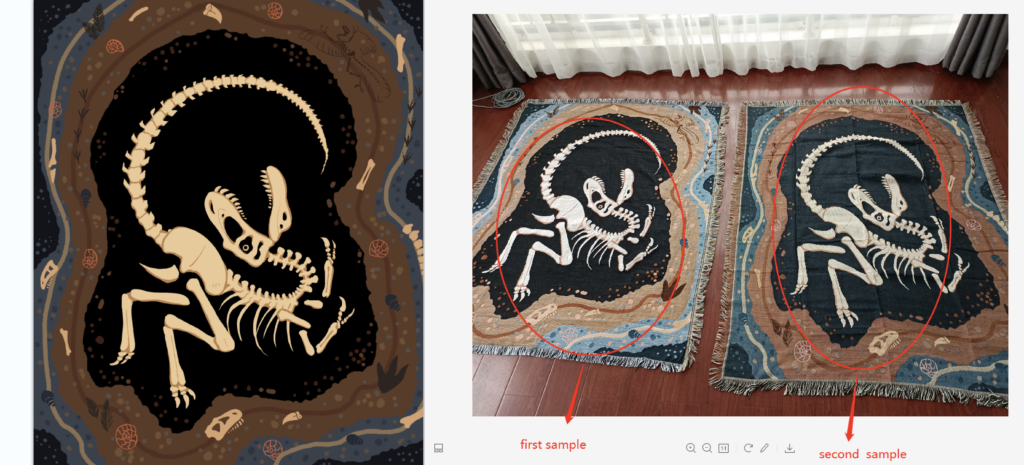 We also have a couple new additions, and as of writing this not all of these pins have been updated in the shop yet, but will hopefully be up by the end of December. We have the third member of the Bonebed pin collection, a silver Aerodactylus! Followed by some updated reprints for the Greek Myth Olympian collection with Athena, Ares and Demeter. The latter isn't up yet but will be soon!
FUTURE PROJECTS…?
As this may be our last newsletter of 2021, we first of all want to thank each one of you for joining us on this journey this year! We very much enjoyed sharing our processes and projects with you in your email inbox, and hope to continue and improve it in 2022!
Second, what exactly do we have planned for 2022? Obviously this is a big question, but we certainly do have things in mind, and so much of it is very exciting! Currently sitting on our planning table we have:
Paint the Town Red Volume 3
A choose-your-own adventure bundle of zines and cards (working title is Rock, Paper, Scissors!)
The Sanity Circus final chapters
Another 18+ mini-comic
More blanket designs
A special deck of playing cards
More installments in Myth Retold
Plus another big thing that could launch in 2022 if all goes well: a new webcomic!
Augustine is our next webcomic project together, following the spunky August and her crew as they navigate the strange and forgotten mythologies of the Crater–running into monsters, bounty hunters, and even powerful harpy gods. We are excited to introduce you to all our new characters, and will no doubt have more to show you!
Before signing off, we wanted to let you all know we will be at a convention in early December, with Mini Montreal Comiccon, table 526! If you are in the area please feel free to drop by!
That's all for now! If we don't have an update in December, then this is it until 2022–so a very early happy holidays and a merry new year! Wishing you all a warm (or cool, depending on where you live) month and a happy safe season. Thanks again for a fantastic year!
-Tas and Winter (W&W)