This post is coming in a bit late since I wasn't sure if I wanted to do these but I figure its taking up a big part of our life this year so we might as well! Been thinking a lot about doing quick little posts on our impressions of some of the conventions we've been doing! Admittedly I'm not going to go heavily into things like statistics or profits made in these types of posts* I'm going to be talking a little bit more about the vibe of the space, the comfort level of the convention etc. Keep reading and you'll figure it out~!
ECCC is a convention I've been wanting to do for, gosh, ages now. One of those shows that pre-pandemic gave me that major feeling of missing out. Admittedly, a lot of things have changed since 2020 for the two of us personally. It was really nuts to have it as our first con of the year!
---
What did our table look like?
We did a single table for ECCC since everything was in USD (we're Canadian) and already extremely expensive for us to snag the one table, plus flights, plus our stay (thank god we were sharing our stay with friends)! We also could only manage the stock suitable for a single table this time.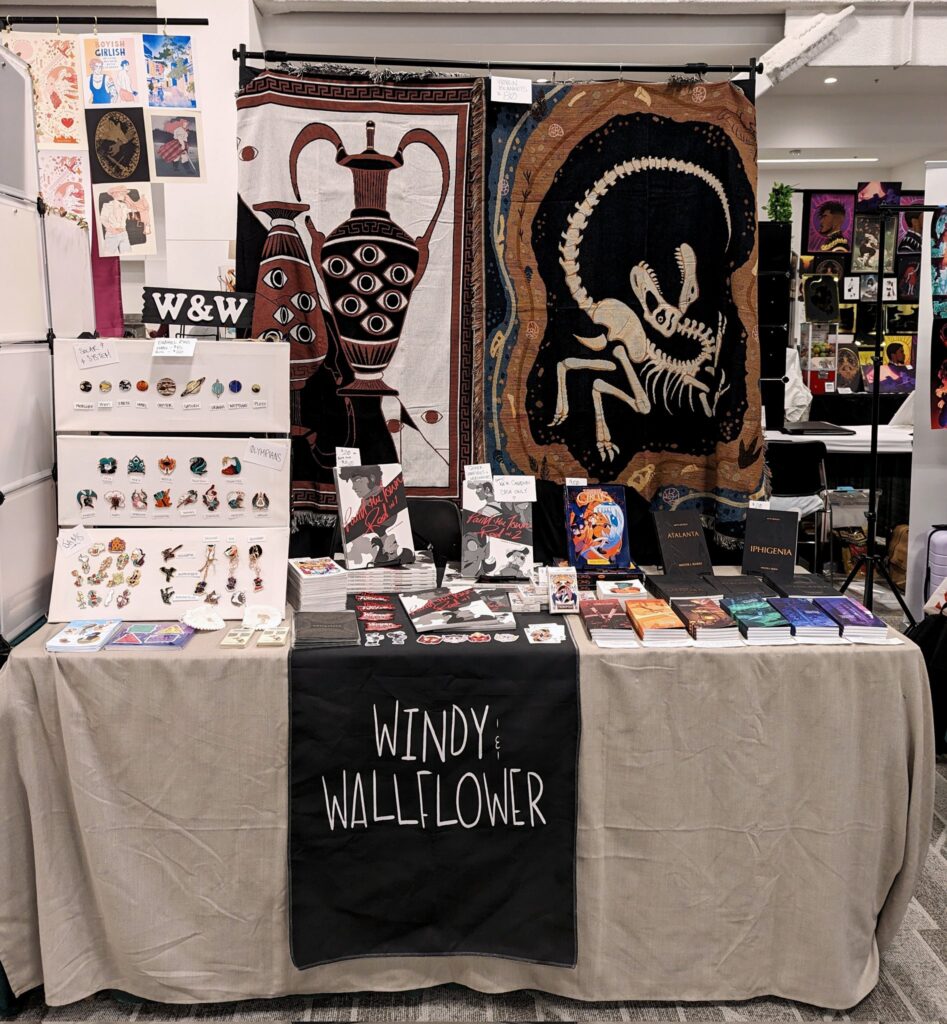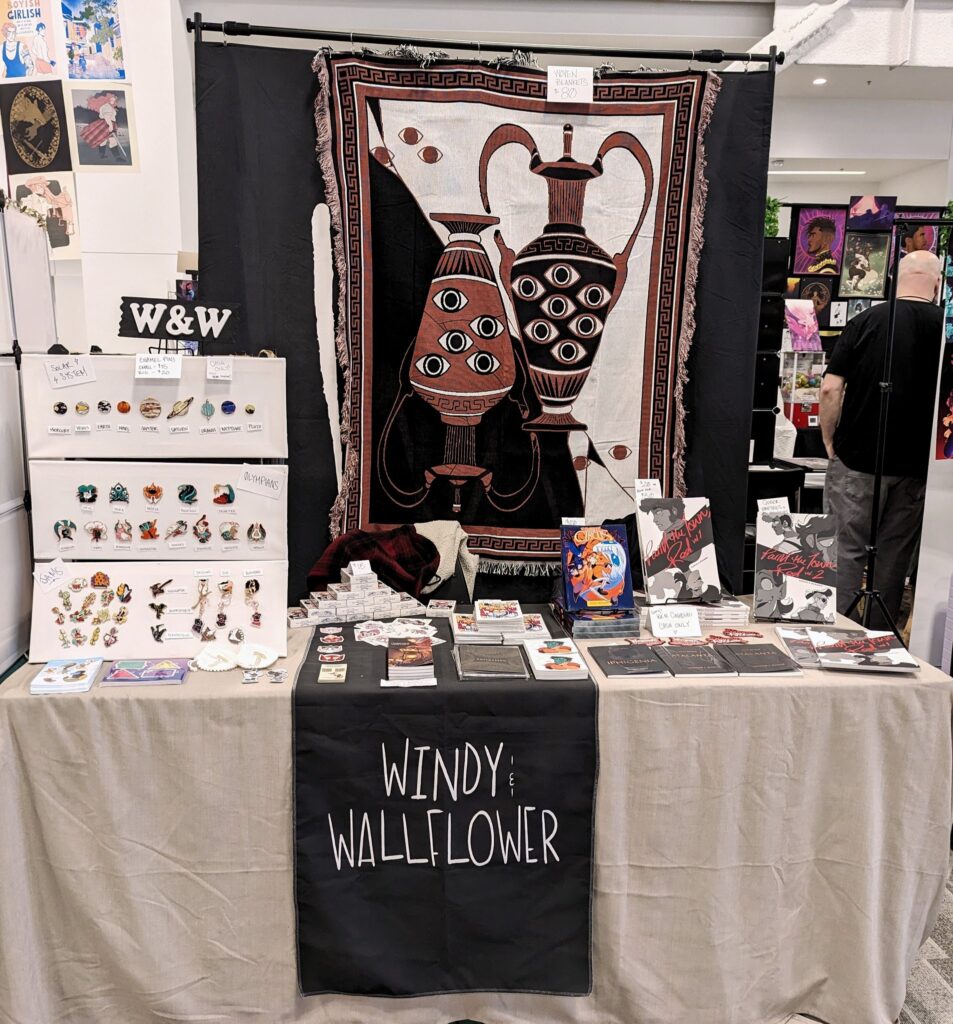 Our table setup often shifts and shapes throughout the weekend as we either sell things out or take notice of what it is people seem to be favouring on the table that weekend. It's hard to know especially from a convention we've never done before, what exactly is going to catch people's attention and different conventions mean different tastes. We try to be flexible (though admittedly pushing our books a bit harder since the two of us prefer selling those since that's our main interest).
Top Selling Book: Prism Knights Anthology
Top Selling Item: Blankets
This is probably going to be our last set up with that black W&W backdrop (and it just so happens to be covered by blankets this time haha woops) because after this con we were able to afford a bit of an upgrade to the table's look & feel! Which is incredible really! We're always chipping away at our table's vibe but this one's going to be quite the overhaul!
---
What did we bring this time?
I feel like something we (artists & vendors) don't talk enough about is what the heck DO we bring to conventions and literally HOW MUCH of each item do we bring?
Here's roughly the stock we had for ECCC (and what sold out)
Books
Paint the Town Red (V1 – 15 // V2 – 10)
Prism Knights (Anthology – 7 // Single Stories – 10 each) Sold Out all but 3 Lamplights
Myth Retold (10 of each) Sold out
The Sanity Circus (9)
Magic Word (20)
Smooch Quest (10)
Extinction (10)
Merch
Blankets (King's Grave – 6 // Eyes of Antiquity – 5) Sold out
Card decks (30)
Magnets (10 of each) – No sale
Sticker Sheets (10 Lost Time, 10 Body Shapes)
Charms (10 each)
Patches (10 each)
Enamel Pins (~8 of each) — Sold out of: Artemis & Saturn*
*We have so many options at this point pins sell but only a few of each design.
Many of the stock we brought and shipped to ECCC that didn't sell out DID sell typically more than half the stock we brought. The only exceptions were a lot of our small merch maybe sold 0-2 items with the exception of our patches which sold about a quarter of the stock we brought! I think mostly its just because we don't have the best display for these guys just yet!
---
Was it worth it?
For us? Absolutely. We got to make the trek out to the US to visit a bunch of friends we've gotten close to during the pandemic! You might recognise some of their work actually, here are their tables! We were sharing a row we very lovingly dubbed: Monsterfucker Alley. (We were tables M06-9).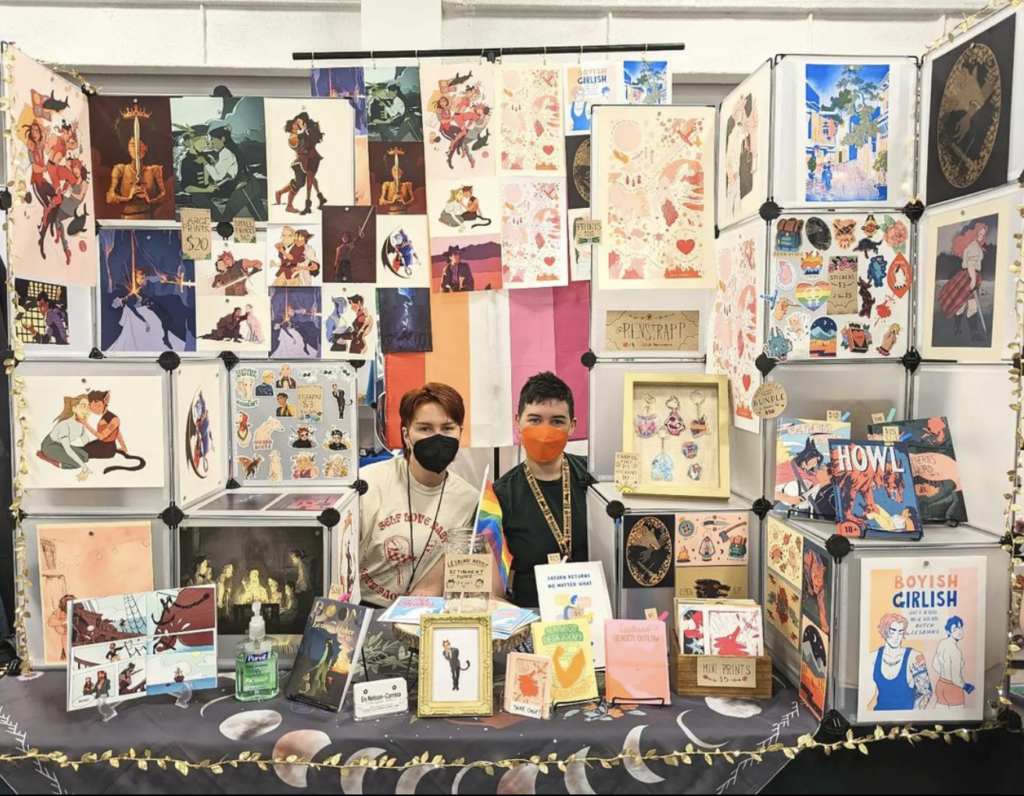 The first image we've got: En Nelson-Correia and their partner Ren Strapp!
Second image we've got: @Fawnduu and @catskullery
Not pictured but vibing in the same row (I didn't think to snag a photo of their booth) is Misha & Eli!! An extra big shoutout to Misha for helping us out with a last-minute shipping fiasco and taking our boxes to the show. Absolute lifesaver <3
*I'm all for transparency in artistic circles and the two of us at Windy & Wallflower like to be as open as possible about or work. BUT, we do have a right to a little privacy so hey.