Vancouver Comic Arts Festival
Or as everyone now calls it: VanCAF! This was our third time doing this show and, like our first time doing this one, the energy of it all was fantastic! (Our second time we were placed in the gym and… it was rough… less of a fun time admittedly… not sure its exactly fair that some exhibitors get placed in that part of the Roundhouse). We were admittedly a little bit nervous we got placed in the corner over here and were hoping this wouldn't impact sales on our end too much (it didn't, in the end, we were pretty thankful to have the extra space to move freely throughout the show)!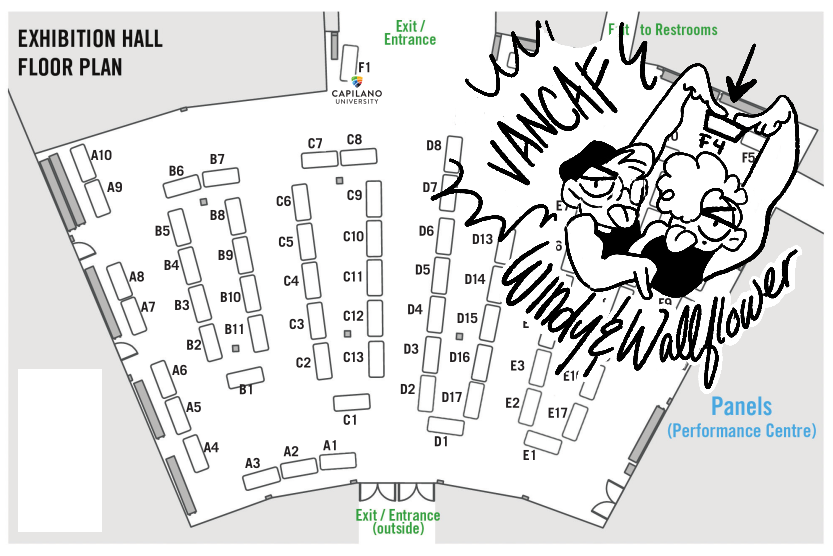 ---
What did our table look like?
The CAFs always give us 1 table and we use this as a chance to really boost and showcase our comics and books more than our wide array of knick knacks we've designed over the years. It looked a little more like this: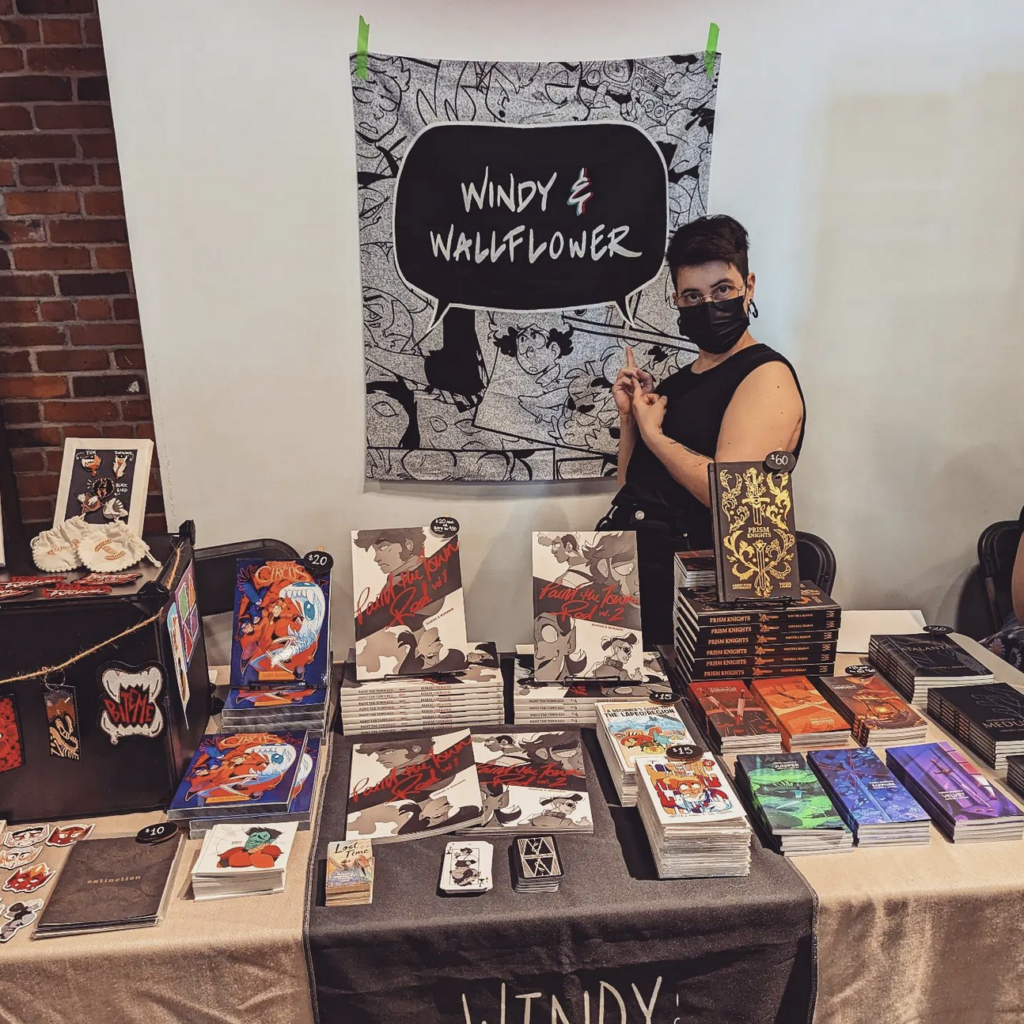 Not too shabby! Its a smaller display, we didn't bring a backdrop stand knowing we were going to be placed against a wall (and not exactly wanting to carry the display on the plane seeing as we were only making our way over with two carry-ons– we'd shipped three boxes of books ahead of time to save some back-breaking)!
Top Selling Book: Paint The Town Red
Top Selling Item: Theropods Card Deck
We managed to sell enough copies at this convention that the remaining stock fit in our carry-ons on the way home! That was the envisioned plan for this weekend but sometimes plans go awry. We were both extremely happy the carry-ons were enough!
---
What did we bring this time?
Speaking of stock, what did we bring and how much?? Well as you can see in our table pictures above, we pair down for Comic Arts Festivals and focus on our books so that means we usually bring all of our 'shy pins' (the ones that get overshadowed by the big honkin' Myths Display) and relegate mini merch to small items we think might do well paired with comics.
Books
Paint The Town Red (V1 – 15 // V2 – 10 ) – SOLD OUT
Prism Knights (Anthology – 9 // Single Stories – 10 each)- Sold out all but Velvet
Myth Retold (10 of each)
The Sanity Circus (9)
Magic Word (10)
Smooch Quest (10)
Extinction (10)
Fakemon (10) – Sold out!!
Merch
Embroidered Keychains (10 of each) – King's Grave Jr sold out
Card decks (10) – Sold out
Magnets (5 of each) – No sale
Sticker Sheets (10 of each)
Charms (10 each)
Patches (10 each) Sold out: werewolf fucker
Enamel Pins* (~10 of each) Sold out: Archeopteryx & Microraptor
*We didn't bring our entire display of enamel pins this time. As displayed, the only pins we brought were: The bonebed collection, yum/delicious, sapphic/achillean and blackbird!
---
Was it worth it?
This one's always hard to justify… The two of us loooove the energy at this festival and find that people are really kind. Everyone who stopped by our table had something sweet to say. We love doing this festival just for that. Unfortunately cost-wise we either operate at a loss or at a break-even point. I think this is the first time we wound up with a bit of profit and only because our flights were so cheap.
We were also meeting with friends at the show and sharing a room! I'm really loving this new trend this year getting to visit with and hang out with friends during convention season. It makes the rock 'n roll back and forth to the west coast so much more worth it!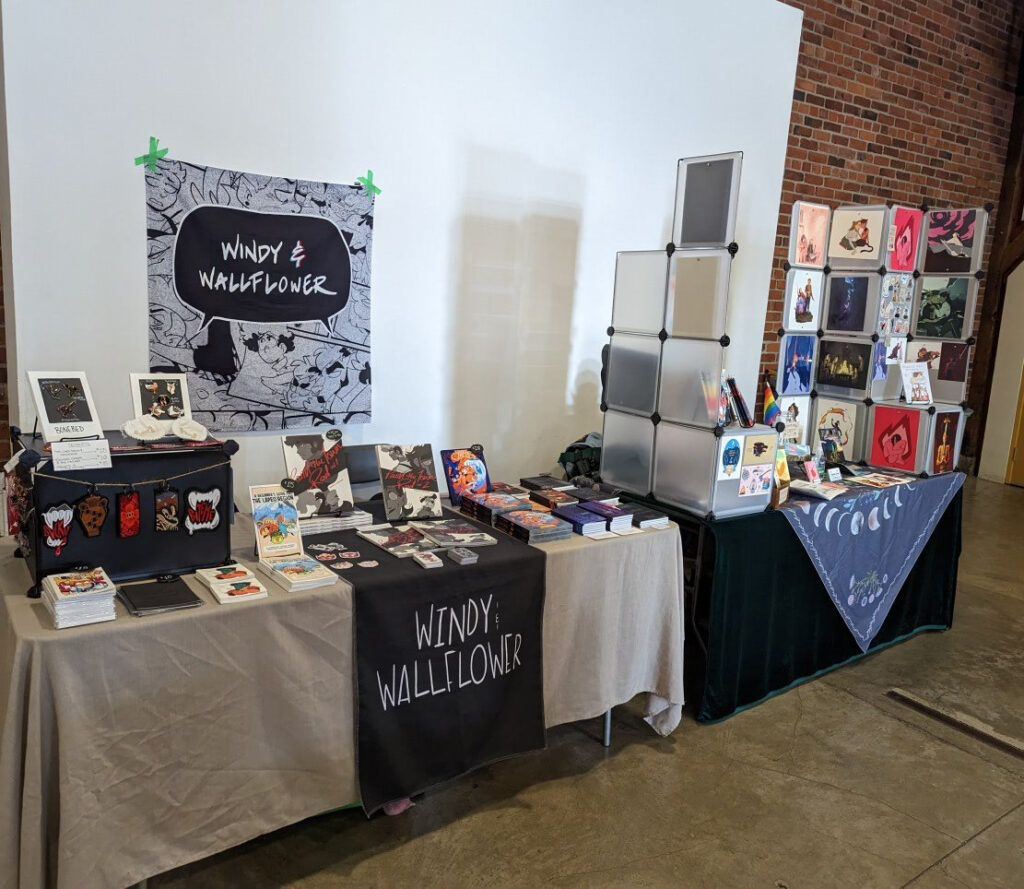 We were boothing on our small 2-table island alongside Ren Strapp and En Nelson-Correia! You should definitely check out their work if lesbian pirates and lesbian werewolves are your jam~!
I'll be back soon with the MCAF update next~!