Festival BD de Montréal (Montreal Comic Arts Festival)
I loooove to acronym this one FBDMCAF because it looks a little bit insane, and well this year it absolutely was insane for the two of us! I've been doing this show for about…. five years now? (Since 2016) and Tas has been joining me for about the last 4 iterations! They used to have this bad boy in the park which was (ngl) a little bit awful, so we're really happy that the new venue is along a good chunk of St Denis street. This whole part gets sectioned off to a pedestrian-friendly zone which makes for a fantastic weekend outdoors for vendors and patrons alike!
This year we were lucky enough to have our very first year without rain at all! Yahoo! (Thank god, because I certainly fluffed this festival up to several buddies who were trying it out for the first time after having a really good experience last year).
---
What did our table look like?
Once again we had a single table for the event! Featuring all of our books. We decided to bring a couple extra sets of pins to this one since it was local and we could risk bringing a little bit extra (we added Tiny Heroes and Mini Monsters into the mix since those two get overshadowed a lot by the Big Myths Collection).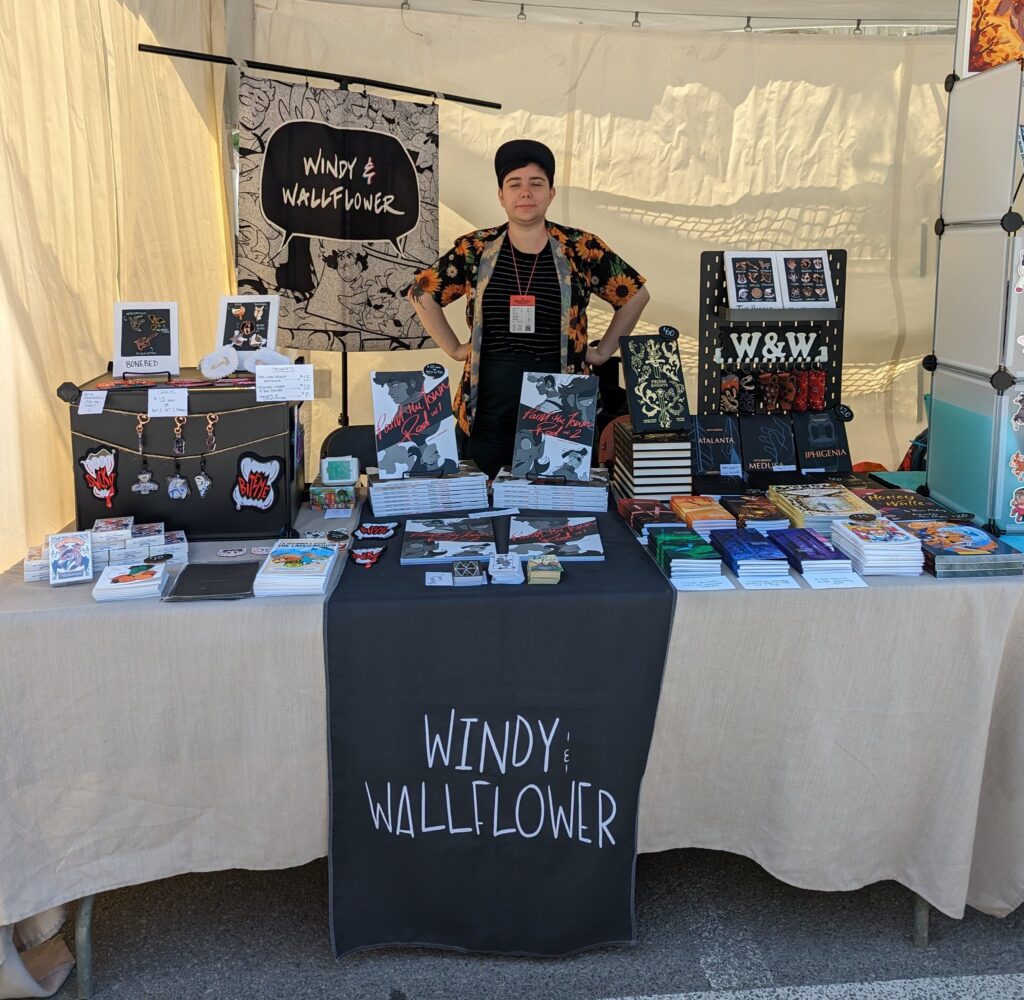 Hehe Tas' expression in this one kills me (but also the major mood after the whirlwind couple week's we'd had leading up to this!
Top Selling Book: Paint The Town Red & Prism Knights Anthology
Top Selling Item: Theropods Card Deck
This con is a bit of a hard one to judge because honestly everything sold pretty well overall. We had to restock several things (mostly books) a few times over the course of the weekend!
---
What did we bring this time?
So…. these are going to be rough approximates since we were local this time & restocked Saturday evening to 'maximise sales' as the corporate term goes heh–
We brought a lot of the same amounts heading into the show but the restocks skewed our numbers a little bit. I didn't think to take down how much of each book we were adding to the pile going into Sunday so here's some rough estimates.
Books
Paint The Town Red (V1 – 10 // V2 – 7 ) + 5 each restock
Prism Knights (Anthology – 10 // Single Stories – 10 each) + 5 anth (and +1-5 of each of the little books so that we had 5 of each one on Sunday)
Myth Retold (10 of each) + 5 of each for Sunday
The Sanity Circus (7)
Magic Word (10) – 5 (took 5 home on Saturday)
Smooch Quest (10)
Extinction (5)
Fakemon (15) – 5 (took 5 home Saturday)
Merch
Embroidered Keychains (10 of each)
Card decks (10) + 20 Saturday
Magnets (5 of each)
Sticker Sheets (10 of each)
Charms (10 each)
Patches (10 each)
Enamel Pins (~10 of each)
---
Was it worth it?
Vehemently… YES. This convention has a special place in my heart that's only growing with each year that I do it. The staff hosting the event are always so sweet and kind. Its the one show that I feel like respects its artists (especially if you've done it more than once). It feels like we're building a relationship here with the organisers and its really special. We're always a bit beholden to the weather but MAN when it cooperates the weekend can be absolutely wonderful. Montreal is fabulous, I always love our audience here. You all absolutely rock and I'm always floored by the reception we get <3 (Fingers crossed we get into Otakuthon–)
Not to mention that THIS YEAR we had a whole slew of buddies at the show! Lets start with our buddies next to us~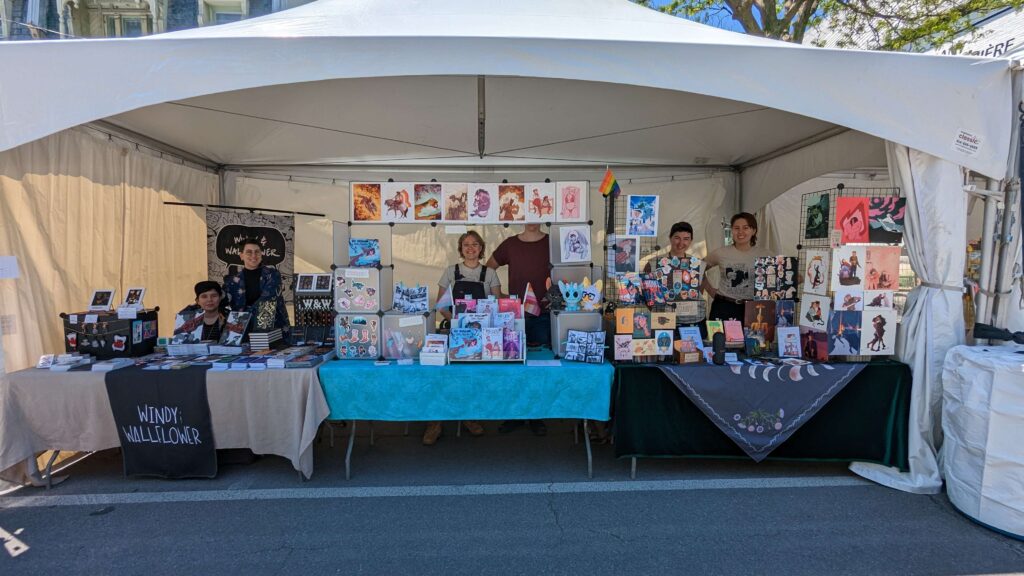 We were absolutely thrilled and super lucky to be tabling beside our buddy Courtney (Fawnduu) and her gf, Sage who wound up printing AND selling a couple patches at the show. What a wild and fun experience!! Beside them we had our VanCAF crew: Ren & En with a friend that came down from Ontario, Dabi~! We made up a good Half of tent A09~! We also had our buddy Tayden (catskullery) and her gf, Liv visit the show later in the weekend along with our friend Stef M who popped in for a quick visit too!
Down the line in tent A05 we had our buddy Gisele!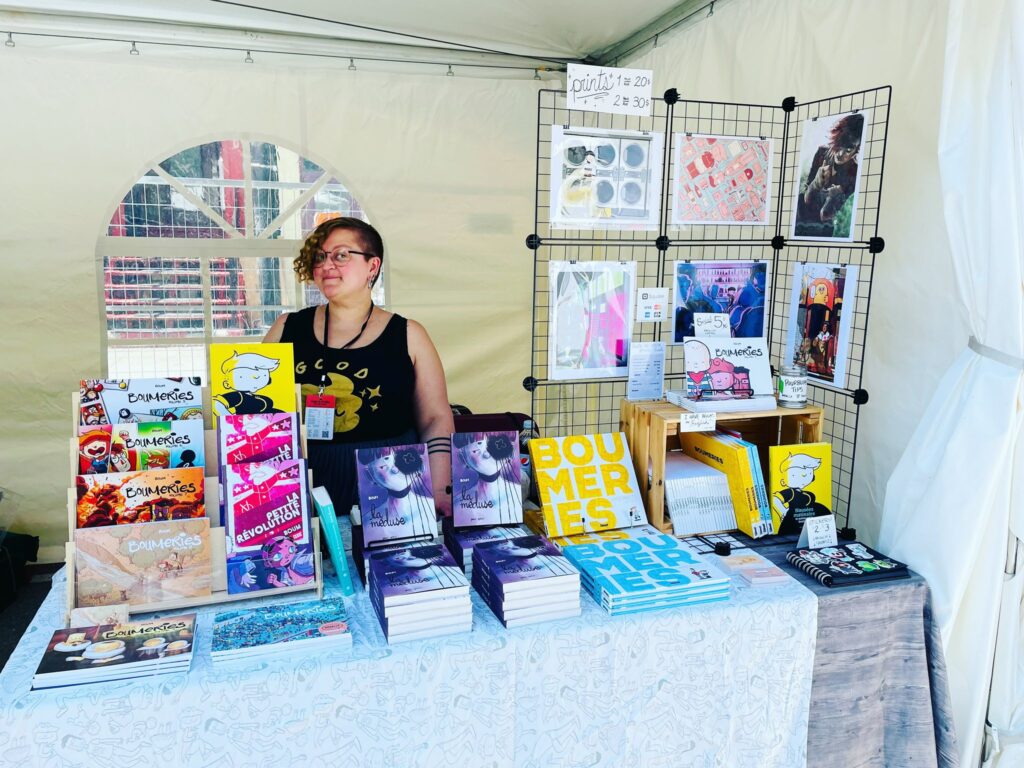 And even further than that at A02 was our buddy Boum.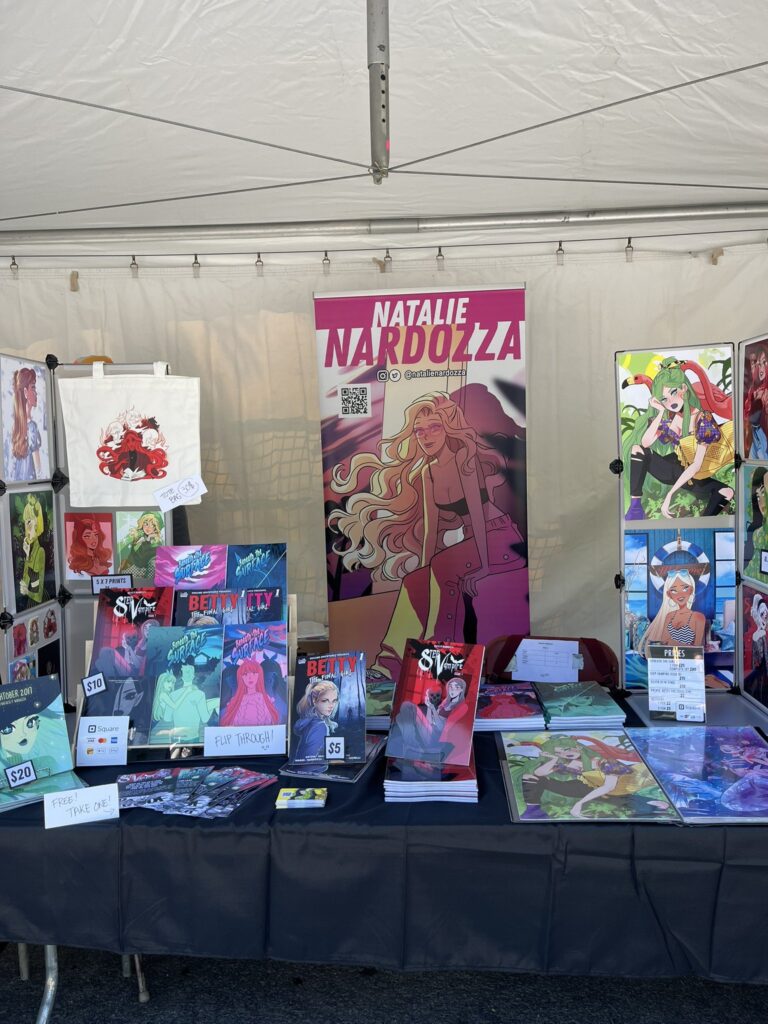 Up the ways we had Natalie in C.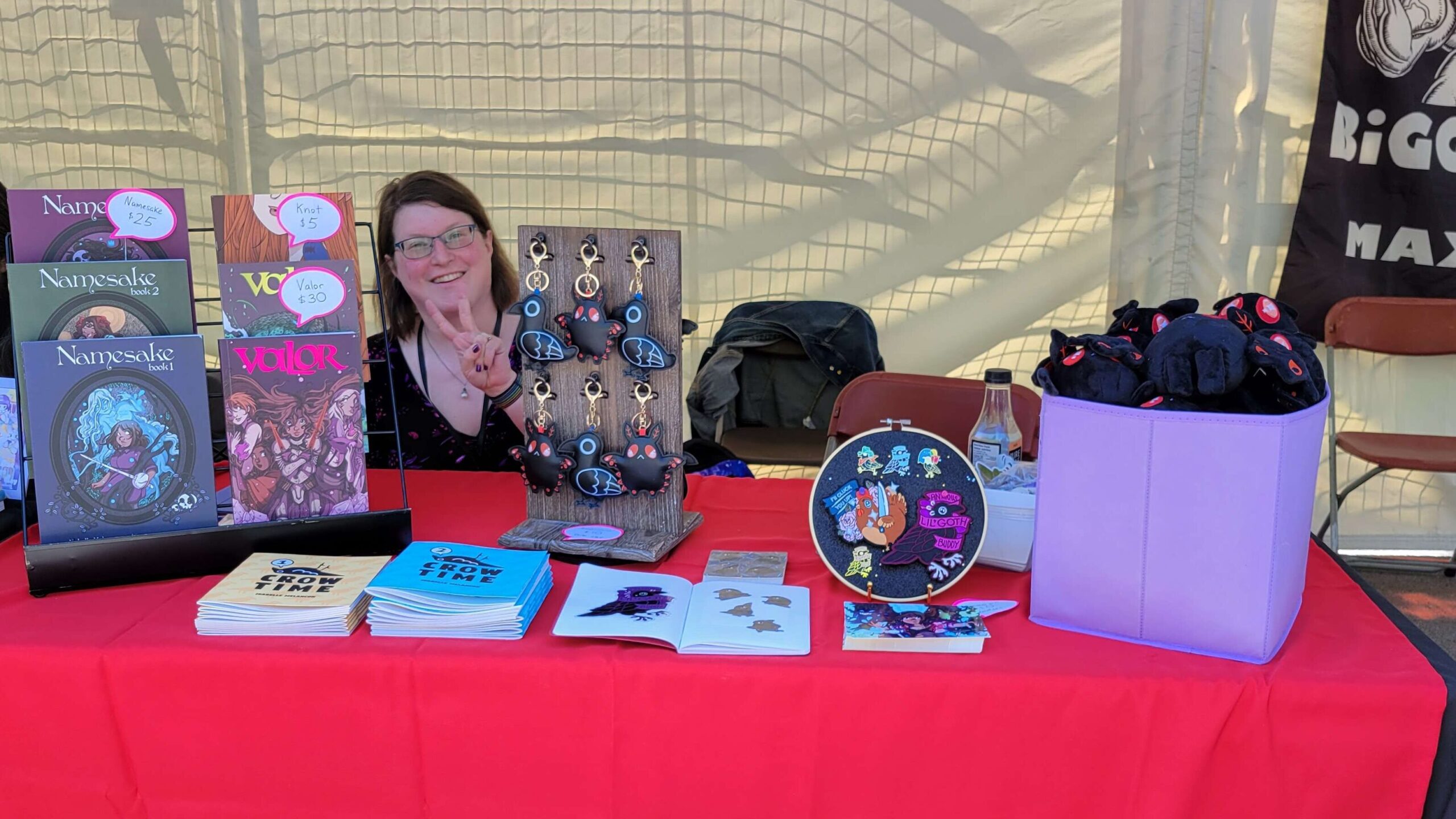 Isa and Meg in D!
Our buddy Cab also made a fun post about her experience this weekend you should definitely give it a read!
It was pretty wild to get to see everyone operating in the same space. It sounds like we all did pretty well for ourselves and had a fantastic time so I can't complain!
On to the next one (but first a nice long break….)