May Newsletter: Shops and Kickstarters
Hey everyone! We hope this month has been kind to you. It feels like it just zoomed by for us, honestly, but we still managed to get in some work, somehow. This update is going to mostly focus on two things: the new stuff in our shop, and the upcoming Prism Knights Kickstarter this June.
Before we jump into that, we're happy to say that all three previous pending Kickstarters we had (Paint the Town Red Volume 2, Myth Retold and the Underworld Pins) have all officially been fulfilled! Oh boy, hopefully we never have to do that again!
Anyways, onto the news!
SHOP STUFF

We have a whole lotta stuff new in the shop! Let's take a little dive:
The Magic Word is now available! It's a nice little discreet size at 4×6″, and printed beautifully. If you'd like to try a taste of something of ours that's a little more saucy, you can pick it up here.
Paint the Town Red Volume 2 is now also available! In this second installment you'll get to meet new characters, resolve past conflicts, and stumble into new ones. If you missed the first volume, there's currently a special deal where you can get the first volume free if you order a volume 2! You can check that deal out here.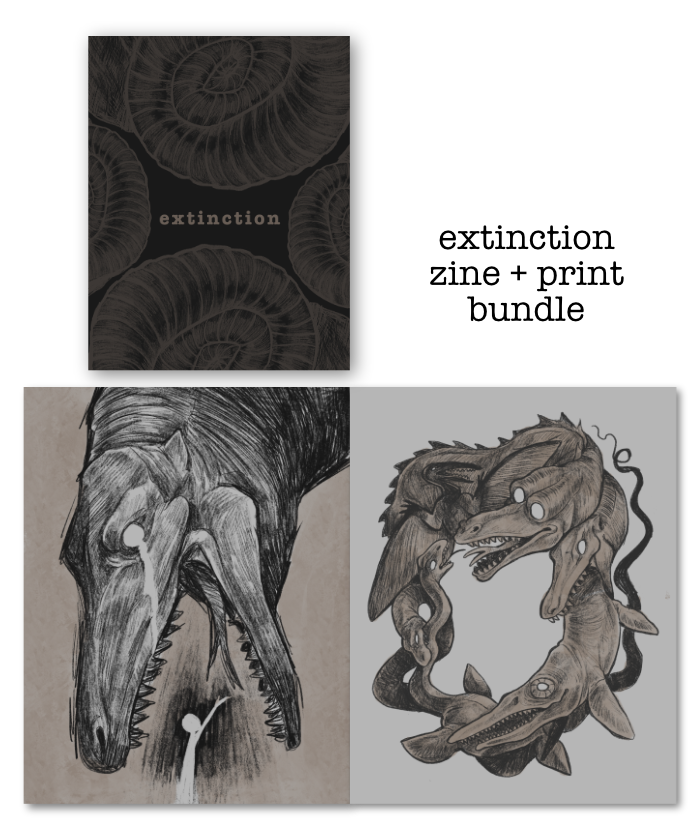 We have a new preorder this month–it's a small risograph zine, Extinction, with poetry and imagery about prehistoric creatures. You can get it as well as in a bundle with a couple prints, right here.
Last but not least, we have a curious new addition to our shop: the W&W Starter Book Box! In this box you get 5 books, to start you off on all of our current series! This includes:
Paint the Town Red Volume 1
Sanity Circus Volume 1
A random Myth Retold book
A random Prism Knights book
A random VVVTrilogy book
This is a great way to get a good idea of the variety of stories we have, and you can also specify in the checkout notes if you want a specific book. If you're at all curious about our book series, we seriously recommend this kit! You can get it here.
PRISM KNIGHTS

Prism Knights is a series of short novels written by J, about queer knights, based around fairy tales.
And now, time for Kickstarter news! Mark your calendars for June 8th, where we'll be launching the Kickstarter for Prism Knights! This Kickstarter will be to print the last two books in the series, as well as a reprint with new covers on the existing books. We're excited to show you these new covers, but many of them aren't ready yet! We can, however, share which artists we have so far:
On top of reprinting these stories, we're hoping to also hit the stretch goal of an omnibus, which will collect all 6 stories into one, with illustrations by Secondlina. We will definitely be making a more detailed announcement closer to the launch date, but if you want to follow it, we have the Kickstarter page ready right here. We hope you'll join us in helping us complete this lovely series!
That's all for now! Here's to a maybe more slower paced June (unlikely, but hey).
-W&W