February update: kickstarter launch
Hello everyone! This newsletter update brings you some exciting news: we have launched the Theropod Dinosaur cards campaign!! Most of this newsletter will be covering that, but we have some other fun announcements, too. First, on to the main show!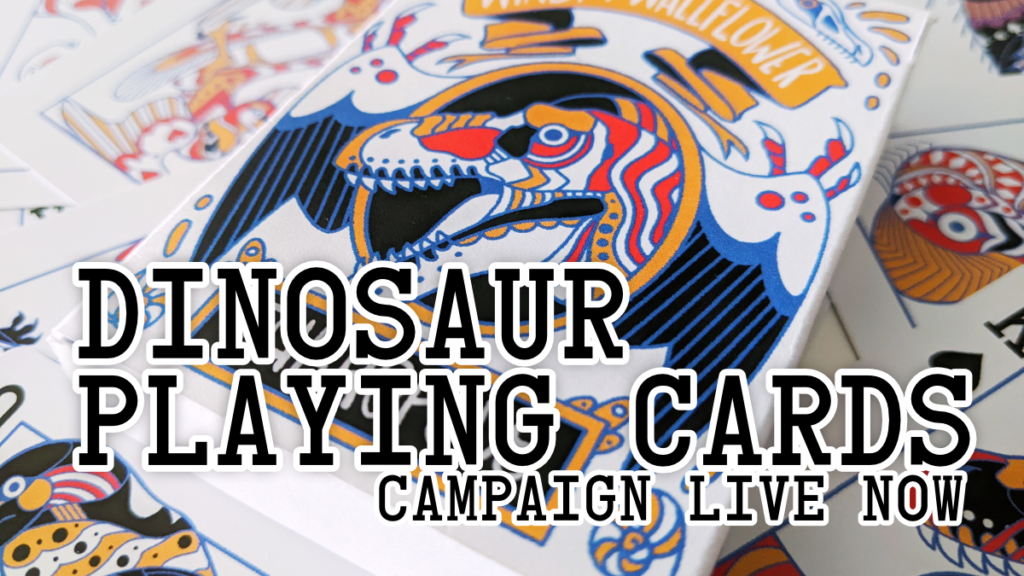 The latest campaign for our first ever deck of cards is live as of TODAY. We are incredibly excited to bring this project to life, and we are truly proud of the work we've created for it. The cards came out gorgeous, and we hope you all will enjoy playing with them! (The prototype we have has already been tested thoroughly, and we loved it).

Each face card is designed with a different theropod dinosaur, stylized to fit the classic card feel. You'll have your favourites like T. rex in the mix, but also some fun additions like Therozinosaurus. If you like dinosaurs–look no further. If you like cards, look no further. If you like both, well, we got you covered.
The cards will be printed on a nice linen, and the tuck box is on a recycled matte. Should we reach our goal and beyond, we hope to further enhance the tuck box with embossing! We also have some other stretch goals: a sister deck, a counterpart to this one with different colours; and a special edition deck, a fancy black-and-gold version with spot foil.
Similar to our blanket campaign, you can get our hit Bonebed pins as add-ons, and the blanket itself is available through select tiers. We also have the Time Capsule bundle, which contains the blanket, two decks of cards, all the pins, and some risograph prints!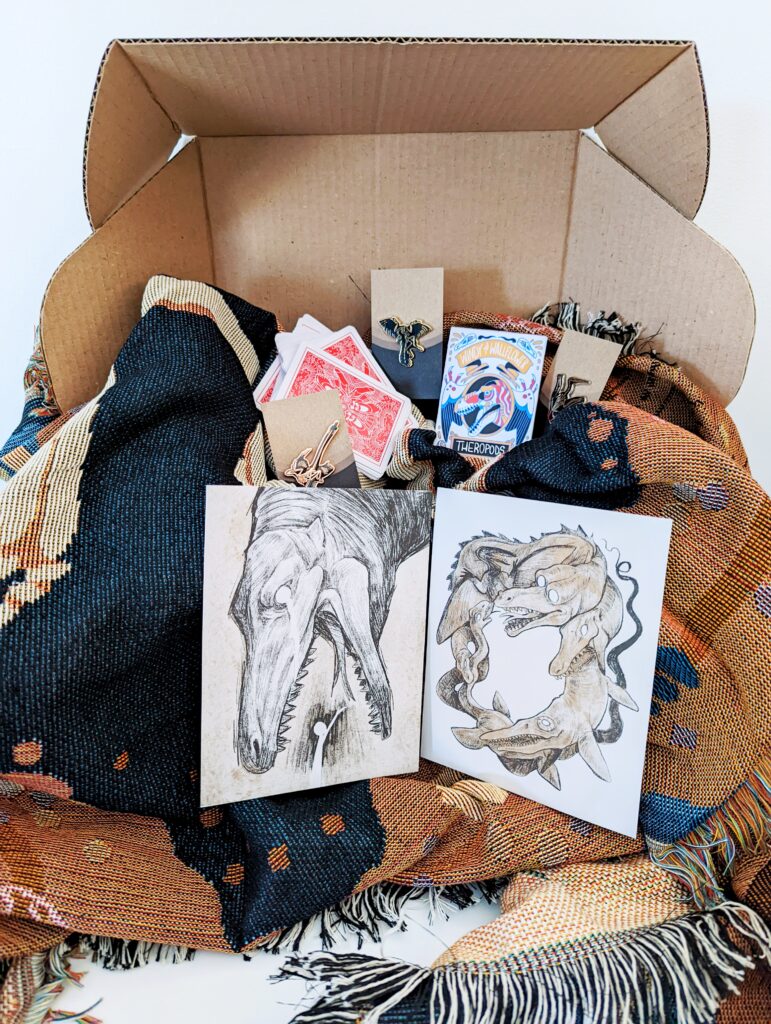 The campaign ends March 17th. Thanks once again, in advance, for your support! We've been having a lot of fun lately bringing our projects to life, and we couldn't do it without you.
Now, as mentioned in our previous Newsletter, we have some contentions with Kickstarter's future plans to pivot to a blockchain. We do not agree with this, and done what we can telling Kickstarter so. We also mentioned running a simultaneous shop order during the campaign–however, we decided not to do that with this one. We simply don't have the means or audience right now to confidently do that, but we do want to try it at some point this year. Kickstarter is all about momentum, and for us, with such a small audience, that's all we can really do. We do sincerely hope that can change in the future, and we can officially leave Kickstarter. For now, we will run this campaign on Kickstarter and gauge how it does. We understand not wanting to support Kickstarter, but in the end, 90% of your money goes to us, not them, and we look forward to a future where we won't need these platforms to be such a huge part of our income.
Shop Stuff

Our last newsletter mentioned we did not have the blankets in hand… though this month, if you have seen any of our social medias, you'll know we did in fact get them, and shipped out the entirety of the rewards! The blankets are now out in the wild, and on our shop. If you missed out and want one, you can do so right here.
Plenty of backers have their blankets in hand and have taken wonderful photos of them in their homes. We suggest perusing our twitter to get a look at them all! (And please, feel free to tag us in any photos you take of our stuff, we love to see it!)
We also have the boxset for Prism Knights available on our shop now. There's only a few left of these after being shipped out to backers, so if you would like this beautiful collectors set of books–act soon!
That's our big update for this month. We hope you'll join us for another campaign, and we look forward to bringing you new fun projects as the year goes on!
Stay safe!
-W&W