Calgary Comics & Entertainment Expo
Or a show we lovingly dub, Calgary Expo! This is a show I've done… four times?? And Tas about five times now. It was a show we started doing as an excuse to pay off a trip to see each other when we were Long-distance and now has become a show we do so that they can visit back home! Its honestly usually our first show of the year so we were stuck a bit scrambling to get a couple new things done in time for this one this year.
---
What did our table look like?
This time… ohhh baby. We took the leap and got our very first Endcap!! For those who aren't sure what it means, we got two tables at the end of a row. In a big convention like this it's mostly a big deal price-wise and was a pretty big risk for us. Luckily, we had room and board and this year our flights to get out west were about half what we usually pay so our risk paying for the extra fanciness was worth it!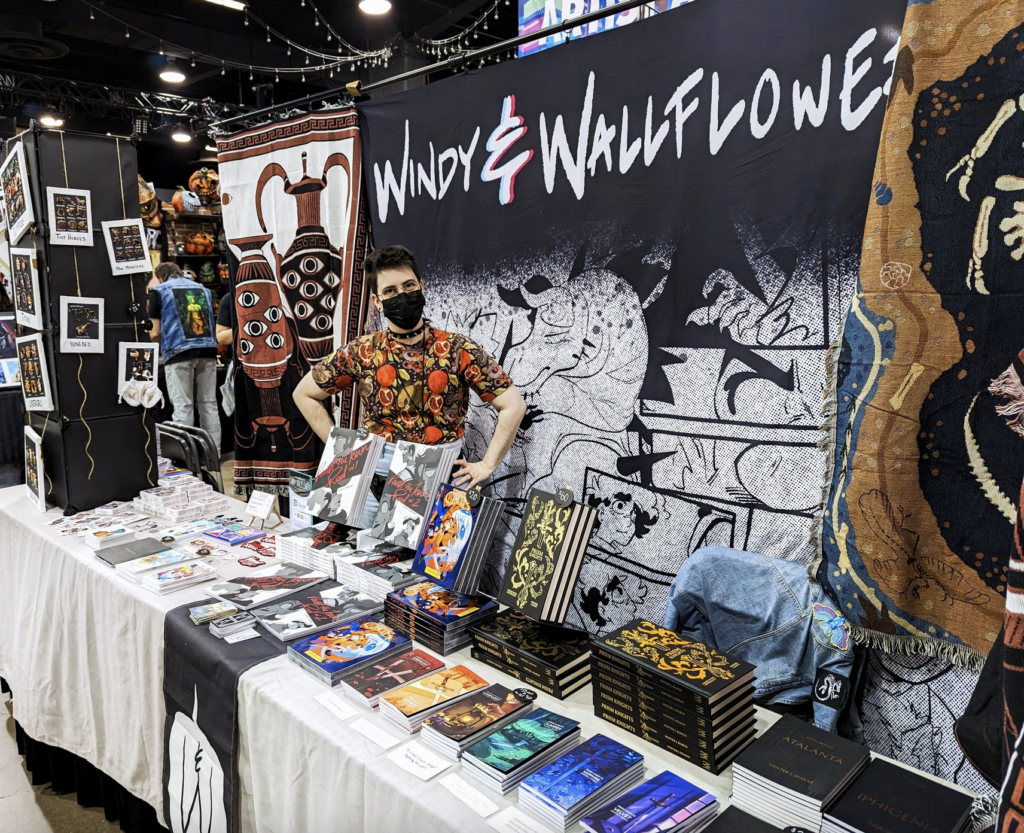 HEY!! Look at that sweet new backdrop! That sweet new setup!! WOWEE~!!!
Our table setup for this con didn't change TOO much over the course of the weekend (I don't have a Sunday pic to compare). We started off the weekend with Myth Retold right next to the blanket tower but found that folks kept missing it with the fancy distraction so we swapped it with our mini-merch collection. By Sunday we also dropped the big blanket tower to our usual blanket pile which moved a few more of the blankets now that people could see the King's Grave better.
Top Selling Book: Tas' new Fakemon zine!!
Top Selling Item: Enamel pins…
Not going to lie, this was a bit of a weird convention for us. I think it always is a bit of a weird one. We don't sell quite as many books, a lot of our bigger items don't move quite as fast but we make up for it with enamel pins which is a hard pill to swallow. At least this is helping us pair down our enamel pin collection like we were hoping to.
---
What did we bring this time?
Alright, this show's a bit of a different circumstance for us. We're able to send a LOT MORE of our stock to cover the double table spread because we have the help of Tas' parents and can ship a lot of our stock to them that we can then leave behind for the next show if it doesn't quite sell the way we had hoped so we always go a tiiiny bit bigger for a convention like this!
Here's roughly the stock we had for Calgary Expo (and what sold out)
Books
Paint the Town Red (V1 – 17 // V2 – 10)
Prism Knights (Anthology – 16 // Single Stories – 11 each) Sold out: Juniper & Bronze
Myth Retold (10 of each)
The Sanity Circus (15)
Magic Word (10)
Smooch Quest (10)
Extinction (10)
Fakemon (10) Sold out
Merch
Blankets (King's Grave – 18 // Eyes of Antiquity – 6)
Card decks (27)
Magnets (10 of each) – No sale
Sticker Sheets (10 Lost Time, 10 Body Shapes)
Charms (10 each)
Patches (10 each)
Enamel Pins (~8 of each) — Sold out of: Neptune, Cerberus, Persephone
---
Was it worth it?
For us? Sure. We have the means to do the show with one of our biggest expenses paid for (room & board when we're travelling). It means we can put the flights on the business and get to visit family. This year we made our goal for the show and then some, profits-wise! Did the endcap help? I think so.
I also think this show suffers a little bit from splitting vendors and artist alley between two major buildings on the stampede grounds. I think the vibes of the show are… they're just weird. We got a bit of weird feedback from folks… there were definitely a few who thought we desired criticism on our work… just a heads up, a convention is not the time or the place to offer that sort of thing. Email if you have to, we're already cramming for a four-day weekend getting strung out on a LOT of interactions. It didn't help that I'd accidentally broken my ipad during the show which might have influenced some of the weirdness. We also completely misjudged the opening time on Thursday and wound up setting up during VIP hours (sorry sorry sorry)!!
OTHERWISE… we DO get a lot of good feedback from folks. We're still interested in doing the show. Its just a bit of an oddball. I think we're always a bit disappointed when we can't exactly get our books to move the way we want them to!